TAZBOT vs. RAZER
1999 BATTLEBOTS In Long Beach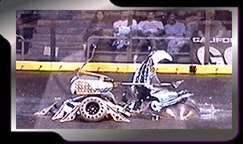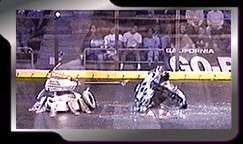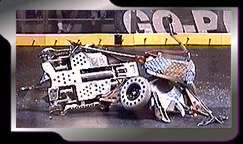 TAZBOT vs. RAZER
The second fight was with the UK's top robot, " Razer". "Razer" was a cool looking robot that used a four-wheel drive system with multidirectional rear wheels. The rear wheels helped to swing the hydraulic, crushing beak into place, were they would, squeeze there opponent into submission. Tazbot got its sharpened pickax under Razer rather quickly and tipped them onto the arena saws. Razer flipped him self-right back over just in time for a couple rides through the floor saws. Tazbot got a second flip and Razer's topside was pressed on to the arena saws, cutting there cables to flip back over. Tazbot won bye knockout!


Tazbot and Diesector are registered trademarks of Mutant Robots and may only be reproduced with our express written consent!!! All rights reserved.