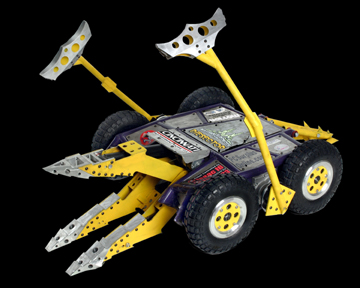 The May 2002 Diesector has brand new set of Jaws made of 4130 Alloy Steel with bilit aluminum tips. The Hammers have also been upgraded with some help from my buddy's at CINCINNATI MACHINE to the new "Battle Mallet" design, complete with S7 tool steel stamps on both ends to better remember where the dents came from.. HeHE! There are now 200 Ni Cad cells powering this Beast and a shiny set of new black tires.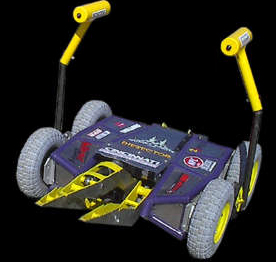 Diesector 2001 has a New 4130 Alloy Steel frame with Titanium armor and 2 new Battle Hammers that my New Sponsor Cincinnati Machine wiped out of a extra VF-4 milling machine.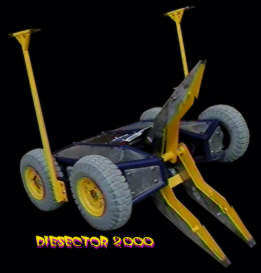 Diesector is the latest fighting robot from Mutant Robots. This new robot was an idea I just had to build. The next step after Tazbot was to create a super heavyweight and play with the big boys. Somewhere around St. Patrick Day, I started kickin' around some new ideas using good old pen and paper and a few cardboard templates. My pal Dan Rupert stopped by and introduced me to a new 3D modeling program "RHINO 3D".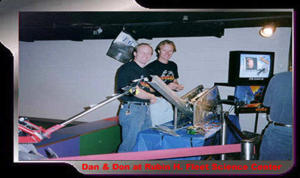 Dan came over to do a little Battlebots exhibit with me for Engineer's Week at the Ruben H. Fleet Science Center. We displayed Tazbot and the center section of the New Super Heavyweight robot "Grendel". We also set up a monitor to show the commercial from Battlebots Long Beach and the Pay-Per-View trailer. We handed out a few posters and answered a boatload of questions. Needless to say we were a hit. The local News came by to do a short segment which featured Battlebots (See Video). Well any way, Dan and I got to talking after the Science Gig; he gave me a crash course in Rhino 3D modeling and as they say "The Rest Was History"!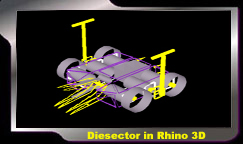 Two months later Diesector was conceived in my own computer! Wow!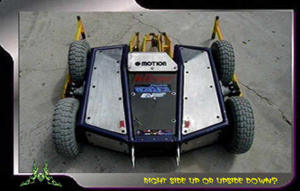 The number one thing I liked about this concept, was that the robot could drive on both sides, The second was the main weapons could also rotate on both sides and land in any corner of the robots perimeter.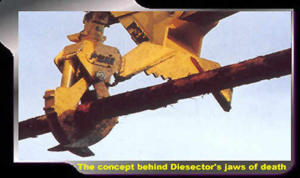 The third and toughest part was the concept of the Jaws.I got the basic idea from a large tree graple used in cutting down our poor forest.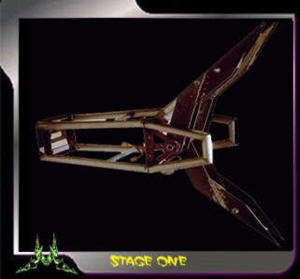 At first, I wanted to use a "Phoenix" Jaws of Life but they were very heavy, slow, and require a 5000psi hydraulic pump. With six large direct drive motors, there wasn't much weight to spare.
I ended up fabricating my own jaws using two heavy-duty MOTION (1000lb) actuators and some 3/8" steel plate. I needed to design it so that both the upper and lower jaws could overlap by 14" so that they would fully close, no matter witch side the robot was driving on. The idea of the jaws wasn't exactly to crush other robots, it was to create some thing that would be fast, reliable and gain control.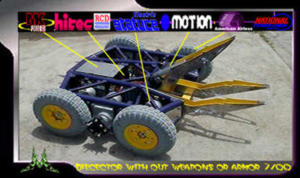 After many hours of designing and only two-months until the next Battlebots, I went in search of some support. My buddy Rich Reid at National Power got me in contact with Chris and Randy at Stature Electric. They had both seen BattleBots on Pay-Per-View and offered to sponsor Diesector (awesome!). I then needed reliable speed controllers. I contacted my friend Damingo at Tag who got me hooked up with some old 60-amp test units from the MFG. Now I knew that the amps were low, so I hooked them together, one to the front pair of wheels, the second to the rear. The other two direct drive Stature motors were used to rotate the Main weapons. Two 10lb pick axes/chisels were attached via a shock absorbing system.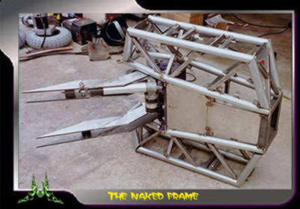 The frame of this Robot was built using 11/2" oversized steel tubing working from the jaws out. There were plenty of deviations from the original designs, but at some point you got to JUST DO IT! The entire 24v electrical system was run on two standard 26ah "MK" Batteries and some RC interfaces from Dan at Team Delta. I used a modified Hitec (Prism 7) radio using all seven channels. The joystick on the right was for driving, the joystick on the left operates each of the jaws independently and there were two custom joysticks mounted to the back of the radio to operate both weapons.
Diesector was alive and dangerous about two weeks before the Battlebots Comedy Central event and weighed in at exactly 325lb.It worked well and really hauled ass! One of the final steps involved in the creation of this robot was the brutal testing of the frame design and electronics. Trying to break it is hard to do after hundreds of hours of extensive work, but you must under stand your robots limits and capabilities well before it becomes life threatening for people or the robot. There are many battles before you get in the ring and one is to make sure there are adequate safety switches on your robot that let you shut it down in any emergency situation. I urge everyone who is attempting to build a robot to keep this in mind (Safety First), The other final step was to get the pit crew, both robots and all there support gear to San Francisco.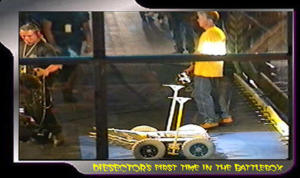 Check back after the smoke clears from the new Battlebots Comedy Central show Starting (August 23rd) for the results of Dissectors first fight!

A SUPER THANKS TO MUTANT ROBOTS SPONSORS
I would like to really thank everyone who donated time, parts and support towards the Tazbot legacy: Pat Moore and Robert Blure from Action, Chris Hues from Motion, Mike Maybarry at Hitec RCD, Bruce at American Airless, Rich at National Power, Dave & Dennis at MK Battery, Randy & Chris at Stature Electric, Dave at DA graphite, Bob & Tony at Innovation First Inc, Homer at Axis Design, the Team Coram crew, as well as all the other robot competitors and friends who have stuck there neck out to further the ever changing sport of robot fighting competitions!
If you are a company or origination who is interested in becoming a sponsor or have questions about Mutant Robots you can e-mail me at mail@mutantrobots.com